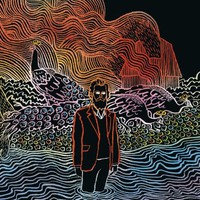 Really happy that I get to review this first, as I should've listened to it when it came out way back in January. The psych-folk work of Samuel Beam, recorded under the name Iron & Wine, has become more diverse with each album, and the fourth Iron & Wine album
Kiss Each Other Clean
continues down the road of reinvention and creativity. The opening track "Walking Far From Home" is an immediate ear-catcher that assures of this fact and sets an adventurous tone for the album to pursue.
Even the tones of Beam's hushed voice carry a more apparent bitterness at times, such as on "Monkeys Uptown", away from their usual dreaminess. There seems to be less of a need to experiment each song individually as on the previous Iron & Wine album
The Shepherd's Dog
, and more of an effort towards a cohesive album effort: the ballad "Godless Brother in Love" gives way to the unpredictably funky "Big Burned Hand" and later the undeniably joyous "Glad Man Singing". These songs show Beam's songwriting talent has by no means suffered through the instrumentation, however others may suffer from a lack of identity, particularly in the first half. Overall the album may not have surpassed its predecessor, but there is more than enough quality to keep guessing as to the next Iron & Wine release, and by the ending track "Your Fake Name Is Good Enough for Me", with its transformation from reggae into noise-rock, the album is left feeling like a triumphant success.
7/10