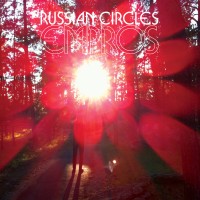 If I'm being honest, this new Rusian Circles LP,
Empros
, has been the only metal album I've properly enjoyed this year. In fact this is the first metal post on this blog.
Empros
, Chicago post-metal trio Russian Circles' fourth studio release is a 45 minute, six track titan of a record. There's a real sense of interplay between the three musicians, especially the rythm section of Brian Cook and Dave Turncrantz. As a result the loud and quiet moments (there are often several per track) sound equally dynamic and compelling, and at times adventurous and beautiful. A must for metal fans, as well as fans of post-rock and other instrumental music.
*Russian Circles - "Mlàdek"
Empros
by Russian Circles is out now via Sargeant House