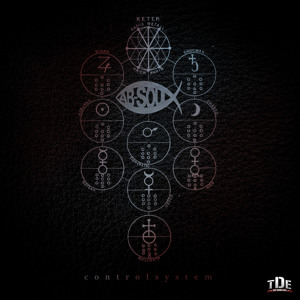 "Ab-Soul: abstract asshole". This warped line of self-promotion is a painfully accurate one. By far the most leftfield of the already ahead-of-the-curve Black Hippy, Ab-Soul also goes under nicknames like "Black-Lip Bastard". At a young age he was diagnosed with a rare skin condition called Stevens-Johnson syndrome which meant the skin "grew back darker than its original pigment". He always wears dark glasses due to photosensitive eyes. Even before his music Ab-Soul cuts one of the more interesting figures in rap, someone who's had an unimagnable dose of ups and downs. Like many I first encountered him on the eponymous closing to Kendrick Lamar's
Section.80
, "Ab-Soul's Outro", where his flow bore a closer resemblance to free jazz than anything out of the tome of hip-hop. Due to Kendrick's success with
Section.80
last year
Control System
can't escape being the full-length indroduction to Ab-Soul, and its title hides nothing about its motivations.
Soulo is often considered the most lyrically gifted of the Black Hippy crew, which is a tall feat within itself standing next to Kendrick, but this would add up to little without suitable production from Top Dawg Entertainmant's unsung heroes. Right from the beginning we are told "This is a story about control" and the scene is set for the remaining 70 minutes. The production never feels too dark or too flashy; Ab-Soul is able to be topical yet retain a dry humor in places without the risk of falling flat. It may never turn your head in amazement but it's dependable and never off; consistent but varied enough to last
Control System
's runtime. I especially like how it twists its way around the other three Black Hippies who guest on the centre trimverate. ScHoolboy Q's presence on "SOPA" makes it a swag rap, Jay Rock's "Lust Demons" is more soulful, and Kendrick brings the album back to social commentary with "ILLuminate". It's an example of clever sequencing, something which all albums of this length need to have. And it also provides a break from the gloomier themes.
Most people however won't be here for the production, but to hear Ab-Soul's wordplay, not to mention his "story about control".
Control System
is more of a collection of seperate ideas surrounding Soulo's social and political views than it is the tightly-constructed concept album the intro leads you to believe it is, but that doesn't stop his lyrics from biting on the tracks that do reflect these ideas. In this regard the Danny Brown-assisted lead single "Terrorist Threats" leads the charge. "If all the gangs in the world unified/We'd stand a chance against the military tonight" is a pretty powerful call to arms, especially when you discover his target: "Dear Barack.../You're lying to the public like it ain't nothing". "Track Two" overlaps Ab-Soul's control system theory with his personal struggles, and comes across as a convincing leader in charge of the "Giving people what they need/You got some kind of disease" hook.
The story of
Control System
is also the story of Ab-Soul, and knowing what a fascinating one it could be we thankfully get to hear a good amount of it, as the more solemn, pessimistic tracks are for my money the best. Even when he creates a character who plots his own form of justice in "A Rebellion", its weight comes off the lines not being so clear cut. The album's second half slips in mood until the suicide-contemplating "Beautiful Death", but is all put into perspective with "The Book Of Soul", which tells the true story of the suicide of Ab-Soul's girlfriend Alori Joh. The most remarkable part of the album, and where Ab-Soul truly lives up to his name, as his voice chokes under the weight of its subject matter - it must be difficult for any listener to not feel some connection to it.
Of all of the rappers and groups crossing over into the mainstream, there are fewer that suggest they could bring something unique, even necessary than Ab-Soul and Black Hippy.
Control System
is powerful evidence for both. Mainstream rappers, criticized more frequently than ever for taking fewer risks, rarely attempt to put something like
Control System
together; that could only have someone with passion, humour and an unfaked quirkiness that have earned him a loyal fanbase, the Abstract Asshole.