These are the rules I used to qualify my top 100 tracks of 2011:
One per artist. This is pretty much the only rule, and is also true for my albums list. The others just qualify this rule. Just so that I cangive the most coverage to artists I like really. Also makes it a bit simpler for me.
Collaborative tracks and tracks by single artists are allowed if the artists are equally billed. I'm talking about #51 and #29.
Feature spots are allowed an unlimited amount of times. Yes this list has a lot of Danny Brown. This isn't true for the artist for whom the track is mainly credited for however, it counts as their track.
Also these are single tracks, regardless of whether it counts as an official single or just an album track. EP's have a seperate list, just in case you didn't notice.
Here we go:
100. Nas - "Nasty"
99. Unknown Mortal Orchestra - "Ffunny Frends"
98. Big Troubles - "Sad Girls"
97. Jens Lekman - "Waiting for Kirsten"
96. Zola Jesus - "Vessel"
95. Tom Waits - "Bad as Me"
94. Kreayshawn - "Gucci Gucci"
93. Thurston Moore - "Blood Never Lies"
92. Bon Iver - "Holocene"
91. Foster the People - "Pumped up Kicks"
90. A$AP Rocky - "Palace"
89. Little Dragon - "Nightlight"
88. Adele - "Someone Like You"
87. My Morning Jacket - "Circuital"
86. Terius Nash - "Wedding Crasher"
85. Washed Out - "Eyes Be Closed"
84. TV on the Radio - "You"
83. Atlas Sound - "Te Amo"
82. Azaelia Banks - "212"
81. Korallreven - "As Young As Yesterday"
80. Russian Circles - "Mlàdek"
79. Trash Talk - "Awake"
78. Kate Bush - "Wild Man"
77. Wilco - "I Might"
76. Mr. Muthafuckin eXquire - "The Last Huzzah feat. Despot, Das Racist, Danny Brown, EL-P"
75. Black Lips - "Spidey's Curse"
74. Jamie xx - "Far Nearer"
73. Youth Lagoon - "Afternoon"
72. Beastie Boys - "Make Some Noise"
71. The Antlers - "Parentheses"
70. Colin Stetson - "Judges"
69. Cut Copy - "Need You Now"
68. Beyoncé - "Countdown"
67. Tyler, the Creator - "Yonkers"
66. Lykke Li - "I Follow Rivers"
65. Jay-Z & Kanye West - "Murder to Excellence"
64. Africa Hitech - "Light the Way"
63. The Pains of Being Pure at Heart - "Heaven's Gonna Happen Now"
62. Drake - "Headlines"
61. Charli XCX - "Nuclear Seasons"
60. Metronomy - "The Bay"
59. Real Estate - "It's Real"
58. Fucked Up - "Turn the Season"
57. Dum Dum Girls - "Bedroom Eyes"
56. Jacques Greene - "Another Girl"
55. Burial - "Stolen Dog"
54. The Drums - "Money"
53. Toro Y Moi - "New Beat"
52. Kendrick Lamar - "Rigamortis Remix feat. Busta Rhymes"
51. Black Milk and Danny Brown - "Zap"
50. JEFF the Brotherhood - "Hey Friend"
49. King Krule - "The Noose of Jah City"
48. Josh T. Pearson - "Sweetheart I Ain't Your Christ"
47. Hudson Mohawke - "Thunder Bay"
46. Nicki Minaj - "Super Bass"
45. Girls - "Honey Bunny"
44. The Roots - "Make My feat. Big K.R.I.T."
43. Panda Bear - "Last Night at the Jetty"
42. The Go! Team - "Buy Nothing Day feat. Bethany Cosentino"
41. Julian Lynch - "Canopy"
40. Four Tet - "Pyramid"
39. Jai Paul - "BTSTU"
38. Gang Gang Dance - "Glass Jar"
37. Gotye - "Somebody That I Used to Know feat. Kimbra"
36. Shabazz Palaces - "Youlogy"
35. Radiohead - "Give Up the Ghost"
34. Oneohtrix Point Never - "Replica"
33. SBTRKT - "Pharaohs feat. Roses Gabor"
32. Twin Sister - "Kimmi in a Rice Field"
31. Chelsea Wolfe - "Mer"
30. Rustie - "Ultra Thizz"
29. Danny Brown - "Monopoly"
28. TV Girl - "Benny and the Jetts"
27. Nicolas Jaar - "Space Is Only Noise if You Can See"
26. Cass McCombs - "County Line"
25. PJ Harvey - "The Words That Maketh Murder"
24. Kurt Vile - "Jesus Fever"
23. Yuck - "Get Away"
22. St. Vincent - "Surgeon"
21. Feist - "The Bad in Each Other"
20. The War on Drugs - "Baby Missiles"
19. The Rapture - "How Deep is Your Love?"
18. The Field - "Is This Power"
17. Iceage - "You're Blessed"
16. tUnE-yArDs - "Bizness"
15. Austra - "The Beast"
14. Fleet Foxes - "Grown Ocean"
13. The Strokes - "Under Cover of Darkness"
12. Thee Oh Sees - "Stinking Cloud"
11. James Blake - "The Wilhelm Scream"
10. Destroyer - "Kaputt"
"Wasting your days, chasing some girls - alright chasing cocaine, through the backrooms of the world all night"
, utters Dan Bejar's breathy voice. There are fewer opening lines that are both immediately striking and memorable, and place the listener straight into a certain part of musical history. The title track to Destroyer's
Kaputt
is a definite high point of the album, a 6-minute adventure through layers of saxophone and soft-rock guitar of early 80's radio. The atention to detail is fantastic: the synth patterns and the female backing vocals each help to create something wistful and forlorn.
9. The Horrors - "Still Life"
Less of a New Romantic revivalist throwback, more of an expertly crafted psychadelic gem. "Still Life" takes time to bring in its component instruments one at a time, beginning with backwards guitar, then drums, bass, keyboards and eventually erupts into colour when Faris Badwan's vocal leads the chorus. Eveything seems to be timed just right and on cue, and feels much too organic to be wooden. The catharsis of this chorus, joined by horns, seems well-earned for both the listener and the Horrors' frontman.
"The moment that you want is coming if you give it time"
.
8. Death Grips - "Beware"
Even the opening interview segment from Charles Manson offers no warning for the terror in store. The opening track to Death Grips' debut album
Exmilitary
, "Beware" means exactly what you might think. If you can't take the sludgiest of beats (courtesy of Hella's Zach Hil), driving buried, monotonous guitar drones, underpinning MC Ride shouting a truly satanic mantra: "
I close my eyes and seize it./ I clench my fists and beat it./ I light my torch and burn it./ I am the beast I worship
", then you're not going to get on very well with the rest of the album. You have been warned...
7. Battles - "Ice Cream feat. Matias Aguayo"
Who would have thought that following last year's departure of vocalist and key member Tyondai Braxton, Battles would announce their return with one of the quirkiest pop tunes of 2011? "Ice Cream" is certainly different, even by Battles' standards. The jolly, cutesy, innocent keyboard lines and monstrous drumming of John Stanier that work throughout the band's second album
Gloss Drop
to create extended, intricate jams instead follow a typical verse-chorus structure, complete with guest vocalist Matias Aguayo's demented babblings.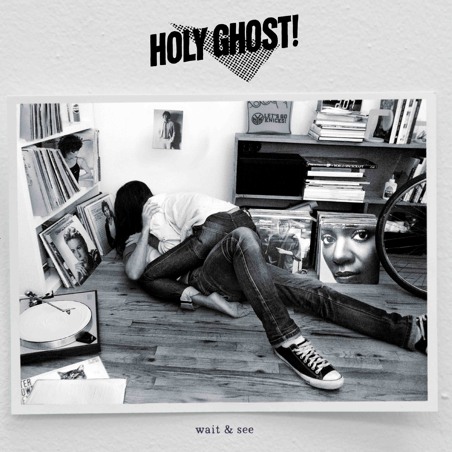 6. Holy Ghost! - "Wait and See"
I've praised Holy Ghost!
in the past
for being an excellent singles band. "Wait and See" is what I meant by that. If the duo were under pressure by DFA Records to carry the mantle after the unfortunate departure of the much-loved LCD Soundsystem, it was because of their genuine talent to create meaningful, authentic synth-pop tunes that celebrate their influences as much as they indulge in them (and allow others to indulge). Even above the rest of the fantastic year Holy Ghost! had: working with Michael McDonald, covering Ministry, it's that hook that kills it every single time.
5. Big K.R.I.T. - "Dreamin'"
One of Big K.R.I.T.'s main selling points is the way in which he breathes new life into classic southern hip-hop, in both his lyrics and production style. As a result many hailed his 2011 mixtape
Return of 4Eva
as an instant classic. With "Dreamin'" K.R.I.T. documents his rise to success with real earnesty and conviction; and in doing so shows a side to southern hip-hop that is rarely seen. Hidden under vinyl crackle is the most simplistic of beats,soulful vocals and guitar, yet the whole experience feels simultaneously cinematic and sincere, as K.R.I.T. addresses reputation, his religion and the measure of success.
4. Clams Casino - "Gorilla"
The final track of my third favourite EP of 2011, "Gorilla" sounds immense. Right from the beginning, a relentless march of cymbal crashes lead an army of deep, disembodied voices. Tension builds and falls as bass pulses carry the beat's momentum. Ultimately "Gorilla" may not be as different to some of the material on Clams'
Instrumental Mixtape
as other
Rainforest
tracks such as "Treetop" and "Natural" may be, but in other ways it's miles ahead: much too dense for a rapper or vocalist, it strikes a balance between the two releases, and sets a new standard for instrumental hip-hop.
3. Lana Del Rey - "Video Games"
It's really hard for me to come up with something to say that hasn't been written about this song, or to justify why I've placed it so highly, but I will try. None of the negative talk or the LDR hating can deny that we're in the transitional phase of a pop star being born. Regardless of any career decisions before or after Lizzy Grant's official debut single as Lana Del Rey, the song alone is a breathtaking, singular statement that we may only hope can be sustained throughout her debut album when it is released next month. "Video Games" is a beauty, that could exist during any point of the last 80 years.
2. The Weeknd - "House of Balloons/Glass Table Girls"
From the first (of three) mixtapes the Weeknd put of during 2011, there have been few tracks that have matched the qualiy of "House of Balloons/Glass Table Girls". Split into two halves, the focus of Abel Tesfaye's sharp lyricism brings the setting to within the party for a change, rather than before or after. The forced smiles for the decadence sex and drugs come through his aching voice, over the ironic "Happy House" sample. Through his storytelling and delivery, Tesfaye is able to make the most exciting of hedonistic temptations come across as grotesque.
1. M83 - "Midnight City"
After constantly revising the choices for the number one spot for the top 100 tracks of 2011, it became almost too obvious as to which track was going to win the crown. M83 have experimented with each album to portray Anthony Gonzalez's interpretation of a perfect pop song, and "Midnight City" is as close as he has ever come to manage the feat. Gonzalez claimed earlier this year that his new album
Hurry Up, We're Dreaming
was inspired to be the soundtrack to childhood, just as his previous album, 2008's
Saturdays=Youth
was an attempt to rekindle adolescence. As a result the track has both a fresh immediacy of an MGMT tune and evokes a worthy nostalgic quality through its shoegazey qualities; the kind of tune that could have appeared at any time in your life but is permanently lodged there after first listen. The lyrics are few, and not instantly noticeable: they paint a night time scene, a "
ride in the dark
" from a backseat vehicle, bringing back the magic to the simply mundane. The song closes with an unexpected but well-timed sax solo (and a closer look through this list shows that 2011 has had many of those), which only makes the fading out of the track more triumphant and euphoric. A new career high for M83; it's questionable whether anyone will be able to get this combination as right as this ever again.
Click below for the rest of the 2011 year-end lists:
Top 15 EP's of 2011
Top 50 Albums of 2011
Top 10 Music Videos of 2011