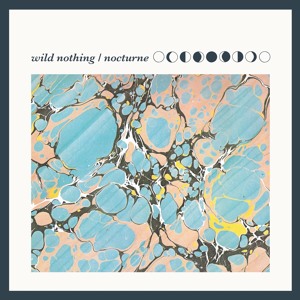 For certain people, the "dream-pop" label can carry with it a number of negative ideas. Ideas of sunbaked American students spending hours in dorms with MacBooks and the latest music editing software, writing songs about the girl they're too wet behind the ears to ask out at the cocktail bar. Moreso than that this new generation of indie songwriters are accused of being lazy and unoriginal, favouring the trend of soaking their guitars and vocals in reverb to hide the lack of substance to their work. Add to that the derivative nature that comes from the copy-and-pasted style thse bands follow and dream-pop becomes ripe for parody and ridicule.
The upshot of this genre's popularity is that when someone like Wild Nothing (aka the now Brooklyn-based Jack Tatum) comes along, a songwriter with integrity and charisma, he isn't slept on.
Nocturne
is the second Wild Nothing album, folowing 2010's sleeper success
Gemini
, and on surface level there maybe isn't enough change here to convert the typical dream-pop cynic. The most significant is the introduction of producer Nicolas Vernhes, who insures a professional touch to Tatum's otherwise homespun sound. Also of note from a sonic perspective is the influence of 80s British electronic acts such as New Order in some of the guitar/keyboard lines and occasional Stephen Morris-esque drum patterns. Much has been made of this, and it does serve as another usp for Wild Nothing, but you're not going to mistake it from a Factory Records album anytime soon. We are still firmly in the land of reverb.
The true asset to
Nocturne
is Tatum's capabilities as a songwriter, the moods and themes he creates through his aesthetic. Maybe it was supposed to be
Gemini
's darker twin - the first three track names "Shadow", "Midnight Song" and "Nocturne" seem to suggest so - but its breezy nature makes that idea a little hard to take seriously. Instead we're treated to songs about girls called Heather and Rheya, and told that "love is paradise" in the five-and-a-half minute centrepiece, the most ambitious track by a stretch. Not exactly dark night of the soul-like stuff. That's not to say these moments aren't rewarding in themselves, and that trio of openers does hold a more tortured presence under all the wistfulness. Take lead single "Shadow". Although the vocals are low in the mix (below some lovely string arrangement), they're not so indecipherable as not to catch such pessimism as "I'd go with you if you asked me to / but we wouldn't get very far, two strangers in the dark". It's a pop song in the Robert Smith template: couterbalancing the instrumental's glimmer of optimism with crushing lyrical blows, and it can't be helped to hang on to the lyrics from there, whether they're the sensual "you can have me"'s of the title track, or the aforementioned laments for "Rheya".
With Wild Nothing's gift for songwriting and extended instrumental and tonal pallette,
Nocturne
successfully bucks the "style over substance" argument for dream-pop out of the water. Although Jack Tatum's heart is still firmly stuck to his sleeve his lyrics, song structures and tasteful nods to his influences add up to a sincere talent, and there are enough musical ideas happening for the album to work satisfyingly well. Until now I found the closest thing to a varied dream-pop album to be
DIIV's Oshin
, released a few months ago also on Captured Tracks. And while that certainly isn't a bad album it takes something like
Nocturne
to show that with any genre there's no obligation to play by the rules when it comes to making an album. There's plenty to stake out on the fringes.