This is a new feature I want to try to talk about new albums through the series of music videos released around them. For many musicians visual flair is important, and by working with their directors they can present their view of how they see their music illustrated, thereby creating a "world" for their album or artist persona to inhabit.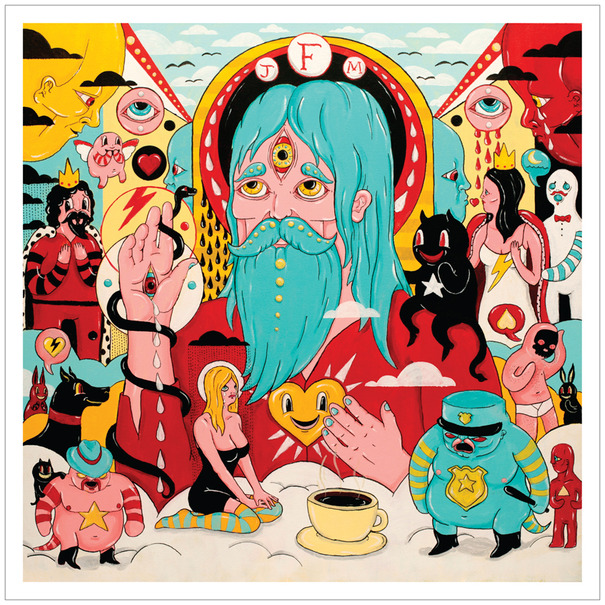 Father John Misty - Fear Fun
Anyone who has seen Fleet Foxes live
(or at least seen recorded performances) will probably be aware of the presence of their drummer J. Tillman, who often brought a charm and humour to their set's shadier moments. This large personality, when coupled with the fact Tillman had released several solo albums prior to Fleet Foxes perhaps spelled the inevitability that Tillman would leave the band to focus on his solo work.
Fear Fun
is the first album to be released post-Fleet Foxes on Sub Pop Records, and also the first under the pseudonym Father John Misty. Let's take a look at the visual side of this reincarnation.
"Hollywood Forever Cemetery Sings" (dir. Noel Paul)
Tillman himself is not seen much in this first video. Instead the focus is on Parks & Rec star Aubrey Plaza, who begins mischevious, bored, upset and self-destructive but eventually murders someone out in the open. The video introduces some of the main themes to be found in both the visual style and music of Father John Misty: namely the marriage of rural American iconography with effortless sleeze, cool and excess, shown here by the party scene. Tillman provides his own bare-footed cameo at the end of the video, setting himself up to be the central figure of this Tarantino-esque cool for later videos by slinging Plaza over his shoulder and into the back of his van.
"Nancy From Now On" (dir. Amy Cargill & Josh Tillman)
Powerful images of womanhood are again leading the way in the video for the Bee Gees-flavoured second single "Nancy From Now On". This time a woman in fetish gear leads Tillman though a series of loving punishments including sitting on his face and cutting his hair (
"Sim Sala Bim"
?), before he gets bored with her and moves onto other women. Use of environment is key here, and a return from the downtown bar to the (open door) bedroom shows the eventual resolution, and matches the song's theme and lyrics perfectly.
"This Is Sally Hatchet"
(dir. Grant James)
Easily my favourite of the three videos, "This Is Sally Hatchett" sacrifices the rural elements and pushes forward the underlying noir cinematography of previous videos to the forefront. There's a narrative that makes litle sense, starting with Tillman cutting off his finger with a pizza slicer and then target practicing in the restaurant's basement with a girl with back tape crosses covering her nipples. Every detail contributes to this twisted, noir image: the pentagram cut into the pizza, the poster for
Jean-Luc Godard's Breathless
, and most of all the closing shot of Tillman, with the shotgun, sunglasses and the cigarette being lit with a gun-shaped lighter.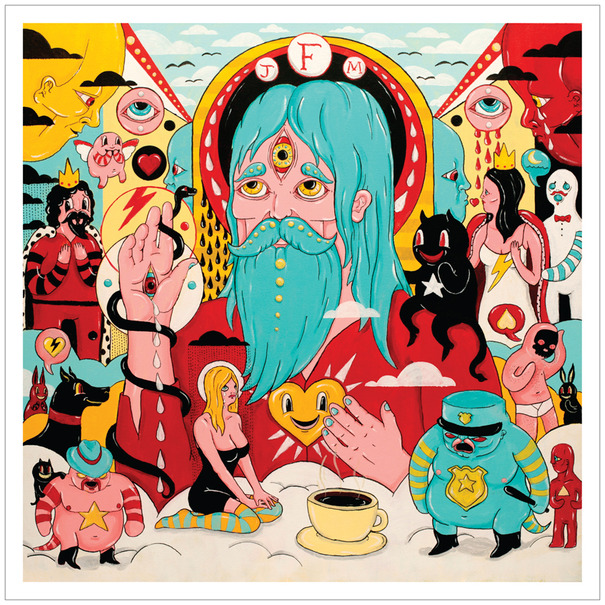 Thoughts on Fear Fun
It's a really solid album, with a lot of variety in songwriting and themes, and great vocals and personality that's easy for fans of Fleet Foxes and American indie folk and rock to enjoy. Ultimately what lets it down for me is the production; although Phil Ek's mixing has bought Tillman's songs up to a professional quality
Fear Fun
sounds perhaps too shiny for the majority of the tracks. This worked well for Fleet Foxes previous studio album
Helplessness Blues
(produced by Ek), but I don't feel compliments the one-man rough-and-ready style of this project. Regardless it's still a very worthwhile listen and can be streamed in full below. It's out now on Sub Pop/Bella Union.